Speaker: Anthony J. Stieber
This talk is an update of a talk in 2008 at the OWASP Minneapolis-St.Paul Chapter which was about encryption as it applies to parts of the OWASP Top Ten.
The new talk uses fresh examples of application cryptography successes and failures, and also incorporates the new OWASP ESAPI. Audience questions, participation, and contributions are encouraged.
I know what I'm looking for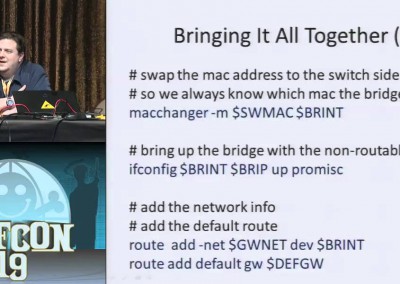 Using Linux and a device with 2 network cards, I will demonstrate how to configure an undetectable transparent bridge to inject a rogue device onto a wired network that is secured via 802.1x using an existing authorized connection.