Speaker: Chris John Riley
"We've known for some time that physical access to a device means game over. In response, we've begun to rely more and more on "secure" container applications to keep our private and company data secret.
Whether you use LastPass to secure your passwords, or GOOD for Enterprise to make sure your company emails are safe and sound, this presentation will demonstrate that more often than not, the container isn't as secure as you think.
In this presentation I will discuss specific design flaws in the security of "secure" Applications that promise to keep your data / password and even company email safe and sound should the device fall into the wrong hands.
I know what I'm looking for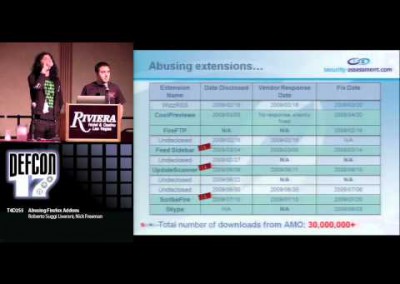 This talk details how we have abused some of the most popular and recommended Firefox addons, with previously unreleased vulnerabilities. Demos will cover remote code execution, local file disclosure and other tailored Firefox Addon exploits.