Speaker: van Hauser
After a short introduction on the differences of IPv4 to IPv6, the weaknesses in IPv6 will be shown. Highlight of the talk is the presentation of the THC-IPV6 Attack Toolkit, which includes all IPv6 attacks as well as a low level packet library for easy crafting packets.
Presenter doesn't understand how IPID works. It does not increment each second. It must be unique for every packet. If IPID was only incremented each second, you could only send one packet per second. Some systems increment IPID on every packet send, other systems randomize the order. Getting rid of IPID and other fragmentation related fields from the IP header is one of the best improvements in IPv6.
I know what I'm looking for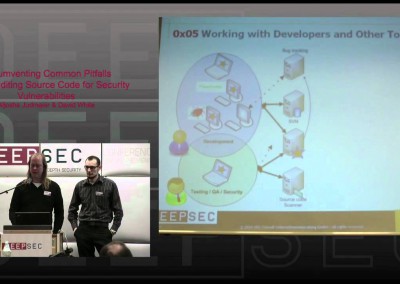 This presentation describes the technologies behind advanced static and dynamic vulnerability analysis tools. We conclude with a discussion of new ways to ensure that bugs get fixed before it's too late.